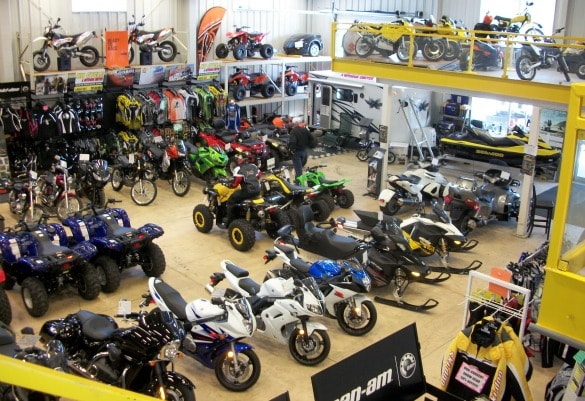 Here at www.hbcycle.autotrader.ca better known to our customers as  
"The # 1 Super Store in the Kawartha Lakes area."   For Sale New and Used Snowmobiles, Atv's, Travel, Toy, Fifth Wheel Trailers and Sea Doo's.  
Here at HB Cycle our staff would like to give out a BIG thank you to all of our KAWARTHA LAKES  ATV AND SNOWMOBILE CLUBS for their continued support in Sales and Service for the past 23 years.  Our dealerships success wouldn't have been possible without the Kawartha Lakes club members support.....  THANK YOU!!!
HB Cycle has built up a huge customer base in the Kawartha Lakes area.  We have loyal customers in Omemeeand Norland area that always buy Ski Doo Snowmobiles. Lots of Little Britian and Kinmount customers  love fine tuning their Yamaha atv and gennearators in our Service department here at our dealership.  Lets not forget our Burnt River, Peterborough,  Oakwood and Lindsay friends. 
Cambray residents enjoy financing our Cam Am Atv's.  As everyone knows Cameron, Coboconk and Fenelon Falls are beautiful areas for Trailer resorts in the summertime. We have a large selection of Travel Trailers, Toy Trailers and Fifth Wheeler Trailers. Our good friends in Rosedale, Sebright, Woodville cruise along on our Kawasaki Motorcycles. Bobcaygeon and Pontypool is can-am Atv country and our Bethany and Janetville customers over the years enjoy riding our Suzuki Dirt Bikes.  
HB Cycle Ownership and staff members would once again like to say thank you to all our kind customers, family and friends all across Ontario for all your continued support year after year.  THANK YOU!!!!!
www.hbcycle.autotrader.ca is located at 66 McLarens Creek in Cameron, Ontario, Canada.  Call for sales 1.888.745.5576.